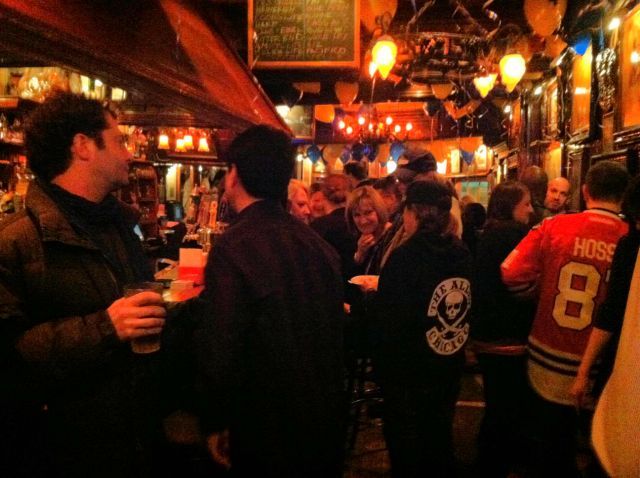 As I walk down the sidewalk at 5:30 p.m. to Division and Dearborn, I spot The Lodge. From the outside, it doesn't look like much is going on. Just another quiet Monday.
But I walk through the door and am  surprised to see an energetic crowd of young and young at heart Chicagoans lined up at the bar. The patrons are full of energy, and a handful of them circle a complimentary buffet set up to celebrate the 56 anniversary of the bar.
Although the official party starts at 9, there is a VIP celebration from 5-9 for the bar's regulars and invited guests. With complimentary beverages, the bar is starting to fill up. I struggle to find a seat, and a middle aged woman I would come to learn was named Arlene offers my a seat at her table.
Arlene and I strike up a conversation, and she explains that she has been coming to The Lodge since she was 21. Having spent her life in Chicago, the Lincoln Park native tells me what she loves most about the Gold Coast establishment.
"There's great music and a friendly staff," she says. She goes on to say that it's always busy, and there's never a dull crowd here at The Lodge. She has seen several Chicago Bulls championship games at this bar and is happy to help celebrate its anniversary.
I ask Arlene her what the best night of the week is to hang out at The Lodge, and she exclaims, "every night!"  She tells me that she hopes I have a good time as she heads off to refresh her drink.
I take a long look around the bar. The walls are lined with hardwood, and vintage photographs an
d paintings pepper the walls. Queen's "Crazy Little Thing Called Love" fills the room, and I overhear the server explain that the evening's specialty drink is the Moscow Mule. I order one from the server.
The Moscow Mule is a vodka cocktail made with ginger ale, simple syrup, and lime juice. It comes in a metal mug garnished with a slice of lemon and a slice of lime, and it's delicious. As I enjoy my cocktail, Fun.'s song, "We Are Young," fills the bar.
Although the ages of the guests vary, everyone is socializing together. I look around as hugs and kisses are exchanged. Friends are reuniting and, for tonight, here celebrating this beloved bar.
We may not all be young, but at least we are at least all young at heart tonight as we celebrate The Lodge.