by Marisa Ruiz (@MarisaVictoria)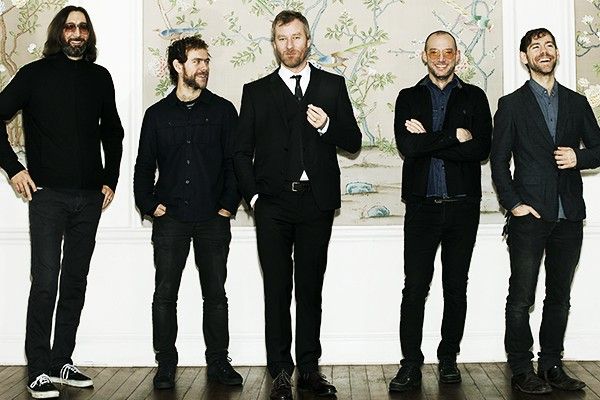 The striking baritone of Matt Berninger's voice can be so haunting that even Game of Thrones wanted to tap its dramatic flair. Enchanting timbre aside, Berninger's lyrics too, so often carry a dark and poetic eloquence that has become a signature quirk of this act of five out of Cincinnati. Together since 1999, the band just released Trouble Will Find Me – the title of which comes from a lyric in the compilation's "Sea of Love" ("If I stay here, trouble will find me".) This much anticipated follow-up to the widely acclaimed 2010 release, High Violet, is already generating buzz and admiration from fans of The National across the globe. At the time of this post, the official video for the record's first single, "Demons", has already amassed more than a million views.
It shouldn't be missed that among the talk of darkness, "Demons" and Game of Thrones, there's more depth and range in subject matter than may first meet the ear. While the word "somber" is used to describe this band's music as often as "trashy" is used to describe Ke$ha's image, a closer listen reveals stark romantic confessions and moments of hopeful clarity. Granted, some of the passionate declarations may be dipped in mud a little bit – "Your love is such a swamp. You're the only thing I want" – but what's real love if not a little messy, right? Track "Don't Swallow the Cap" offers existential commentary and a genius subtle nod to The Beatles and Nirvana in the lyrics.
No doubt, a large part of the intrigue surrounding this band is the contrast between Berninger's oft restrained demeanor and the apparent bottomless well of gentle fire burning within his core as he casually commands the stage. Fascination with the frontman aside, strip away his vocals and you would still have remarkable examples of instrumental mastery. Both the Dessner and Devendorf brothers artfully craft songs that can capture anything from mourning to magnificence – and perhaps the hook is that despite how far those two sentiments seem to be from each other; you may not be sure which one you're feeling. You just know that their music can somehow leave you with the sense that you've had a meaningful conversation without needing to speak a word.
The National plays Lollapalooza on Saturday, August 3rd at 6:00 on the Red Bull Sound Select Stage.
Add The National to your custom Lollapalooza schedule.
Cheers,
-MV