Posted on 14th October 2014
by Marisa Ruiz (@MarisaVictoria)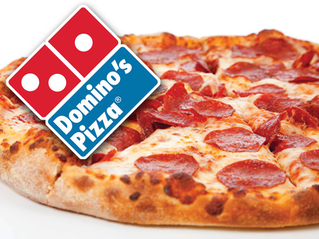 When I heard this news, I literally had to think twice and ask if today was April Fools Day or not. Lucky for all pizza lovers of our fair city, it is totally October and this eye-widening deal is legit. In honor of celebrating their 100th location in Chicago, Domino's is offering a one-topping medium pizza on Saturday, 10/18 for 100 cents (which your grammar school education might remind you is $1, y'all!)
In the spirit of consistency, the offer will run for precisely 100 minutes, starting at noon and ending at 1:40 p.m. at every location in the city. Before you start clearing room in your fridge to stock up on pizza for the apocalypse, know there's a limit of 5 per customer. (Apologies on their behalf if that makes you feel like this.)
Also, Domino's has that rad little pizza tracker on their web site – so you can stare at your screen with your mouth watering until that bargain pizza shows up at your door. You can check out which location delivers to you on the locations tab of their web site.
Get after it, pizza fiends! And tip your delivery guys the same (if not more!) as you would for a normal price. Something tells me they're going to be doing a LOT of hustling in those 100 minutes!
With cheesy love and pepperoni dreams,
-MV
DISCLAIMER: This post was tagged under "Free Food" because there is not a category called "Almost Free Food" – but I mean, it's a DOL-LAR.